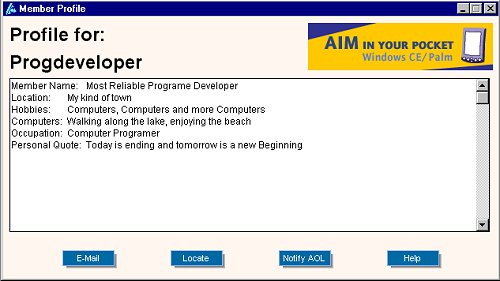 Progdeveloper: hi how are you i am ann
SheWolfieXIII: Hi
Progdeveloper: hi there
Progdeveloper: i am ann 32
SheWolfieXIII: Nice to meet ya, I am SheWie.
Progdeveloper: hi there
SheWolfieXIII: What can I do for you?
Progdeveloper: i am looking for a female to be friends and have a f2f relationship
SheWolfieXIII: Sorry you'll have to look elsewhere. I am happily married. Good luck in your search.
Progdeveloper: ok thanks
Not really sure if this one belongs on this page, oh well.